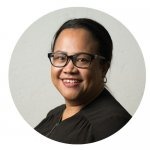 Afliana Lisnahan Reis (Nona), Country Leader, The Leprosy Mission Timor Leste
A big thank you, greetings, and blessings to all Australian Leprosy Mission supporters! We are committed to working on the new global 'Triple Zero' leprosy strategy in Timor Leste.
Our three projects work on each 'Zero':
• Improved Leprosy Services (ILS) Project helps achieve Zero Transmission
• Community Based Rehabilitation (CBR) Project helps with Zero Disability
• Rights for People with Disabilities (RPD) Project is towards Zero Stigma
Together, they tackle the cycle of leprosy.
We are working with the Timor Leste Government's Ministry of Health, and the Ministry of Social Solidarity and Inclusion. We have agreements called "a memorandum of understanding" (MOU) with each. We're also working with disability organisations, community-based organisations and some nuns' organisations to advocate for rights and to spread information about leprosy to the community.
There is much work to be done, and all this needs to be guided by God and covered in prayer.
Timor Leste's Top 5 Prayer Requests
1. Please pray with us that Timor Leste will get a Minister for Health. Timor Leste hasn't had a minister for health since July 2017. There were elections, and the Prime Minister won't approve the person nominated.
2. Please pray for the government's commitment to the leprosy control program. Since 'elimination' of leprosy was achieved in 2011 they have not shown financial commitment. People still suffer, and we have over 100 new cases every year. In the first quarter of 2019, we had 37 new cases. Transmission is still happening, so we need the government to show its commitment.
3. Please pray for our new Improved Leprosy Services (ILS) project (formerly Better Health). This project is posing a big challenge. We really want to hand over the leprosy control program to the government in 4 years' time. We need many people to pray for this: for the government to show ownership and to want to transition through a handover with us.
4. Please pray for staff health and safety. Timor Leste is still under development. Some places are very remote and difficult to access. Please pray for the government and local health staff we work with too.
5. Please pray for The Leprosy Mission Timor Leste's senior leadership team. Pray for wisdom and creativity for senior staff, to find new ways of implementing projects.
Nona will be visiting Australia in September and October. She will also be participating in The Leprosy Mission Australia's inaugural International Partners Day on October 12. To find out where she will be speaking near you or to join us on October 12, please call 1800 537 767 or go to: www.leprosymission.org.au/events
Tags
No tags found
Categories
Popular Posts
---
---
---
Latest Posts
---
---
---