By Janice Caza, The Leprosy Mission Australia International Programs Officer
One billion people, or 15% of the world's population, experience some form of disability. Persons with disabilities, on average as a group, are more likely to experience adverse socioeconomic outcomes than persons without disabilities.
Among communicable diseases, leprosy remains a leading cause of preventable disability in the world. People affected by leprosy already experience severe stigma and discrimination, an issue which is further compounded by disability.
It can result in limited work opportunities, being shunned or kicked out by family members and the community, and discriminated against by laws of their nation, among many other issues.
Leprosy and disability create a host of significant challenges for those affected. Because of this, The Leprosy Mission Australia is committed to a Triple Zero strategy towards zero transmission, zero disability and zero discrimination.
This focuses not only on ending leprosy, but also addressing its related consequences to see the holistic rehabilitation of people affected by leprosy and people with disability.
On World Disability Day (December 3rd), we would like to showcase the incredible work of our partners in this space and some of the key approaches used to reduce preventable disability and respond to its related challenges.
Our approach to Zero Disability and Zero Discrimination:
People with disability make up a significant proportion of project participants. Disability is complex and requires multiple approaches to bring about holistic change and empower people with disability to live a dignified life. Here we showcase just a few of these approaches:
Preventing Disability
The key to preventing disability in people affected by leprosy is early diagnosis and treatment. Therefore, active case finding is an integral aspect of many of our projects.
Last year, 16,412 people were screened for leprosy and 397 new cases were diagnosed. By finding leprosy early, Multi-Drug Therapy (MDT) treatment can commence to cure leprosy.




Rehabilitation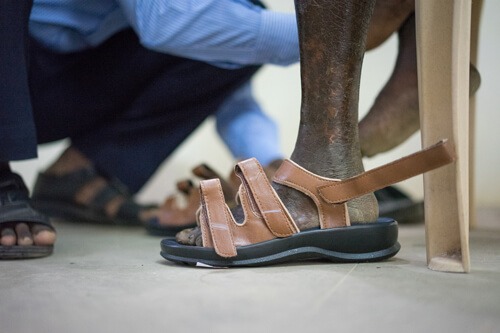 When leprosy is diagnosed late and disability occurs, we have a range of methods in place to restore people and support them to integrate back into society.
For instance, the Salur and Kothara hospitals in India provides reconstructive surgery, ulcer care and eye care to help people affected by leprosy regain function and movement.
Assistive devices are also provided for instance shoes, wheelchairs, protheses, which help people participate in the community. Self-care is another key method, whereby people affected by leprosy learn how to manage consequences of the disease for instance ulcers.
Often, Self-Care Groups are established as a place of moral support and training which reduces occurrence of ulcers and wounds to prevent further disability.
Challenging injustice and claiming rights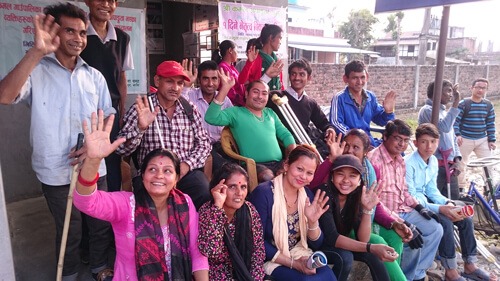 Beyond the physical effects of leprosy and disability, it is also highly stigmatized and often misunderstood.
An integral aspect of many of our projects is supporting or establishing Disabled People's Organisations (DPOs) to challenge injustice and self-advocate for their rights.
In Timor Leste, the Rights for Disability project works with seven DPOs and 2 community-based organisations (CBOs) to build the capacity of these groups so that people with disabilities will have an ongoing voice to raise awareness of disability issues.
In the RECLAIM II project in Nepal, people with disability have been brought together to form DPOs that actively advocate for their rights and address their own and community issues.
These groups in Nepal are now highly respected in their community and are involved in several government and community development initiatives.
In the last year, group advocacy efforts in RECLAIM II saw 442 members receive Disability ID Cards so they can access government support, 11 children with disability received school scholarships, and two people affected by leprosy provided with funding to repair their households.
These examples demonstrate the power of people with disability; once shunned by society are now, through support and empowerment, integral changemakers for themselves and their community.
Establishing livelihoods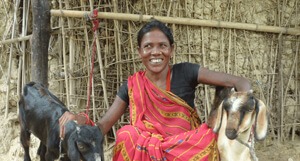 Disability can limit a person's ability to have a job or earn a living, therefore many of our projects include livelihood and economic empowerment.
One common approach used in our projects is establishing Self-Help Groups made up of people affected by leprosy and people with disability. In these groups, members receive training, seed money and support to establish a business/income generating activities.
Group members can also start saving their own funds and create a group fund. From this fund, group members and even others in the community may take out loans for income generating activities.
This varies from agriculture to hairdressing, owning kiosks or animal husbandry. In the Community-based Rehabilitation for Social, Economic and Health Development (CBR-SEHD) project in Timor Leste, 21 Self-Help Groups were established and as a result during a recent survey, 93% of those surveyed stated they were more successful in their businesses.
This meant many members were able to participate in cultural events, pay for school fees, purchase uniforms and have up to two full meals a day.
Many of the people in our projects who are living with a disability can feel powerless. But it does not have to be this way.
By including people with disability and equipping them with tools to create a meaningful future, we have seen time and time again how they become powerful change agents not only for themselves, but for others in their community.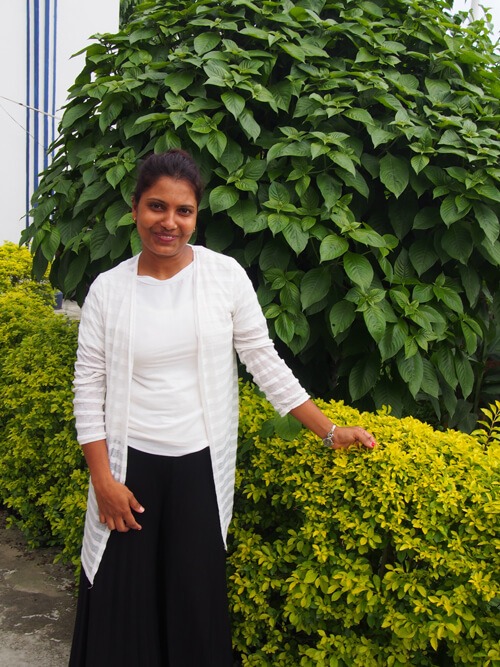 "Before joining the group I felt fearful talking to other people. I had self-stigma, and I always used to cry because of my disability, which stopped me from going near others. I could not speak about what I wanted in front of people. Now I can talk to anybody freely; I can clearly present my problem to others. Now I have strength to accept my disability and live in my community with dignity." – Chandra, Nepal.
December 3rd is International Day of People with Disabilities. You can find out more about this year's theme – A Better World For All – by downloading this resource kit or watching this video.
Tags
No tags found
Categories
Popular Posts
---
---
---
Latest Posts
---
---
---